So after Easter, my Grandmother stayed with us for a week. The boys enjoyed playing outside with her, and Caleb really liked playing UNO with her. I enjoyed the company, too! Here's a picture of the boys tormenting Grandma with snakes. My grandmother dislikes snakes. A lot.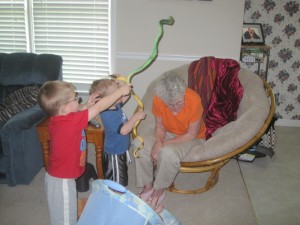 We enjoyed the nice weather while Grandma was here, and went to Dan Nicholas Park.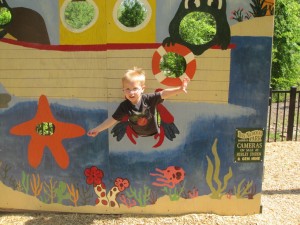 The boys had fun walking through the "zoo" at the park.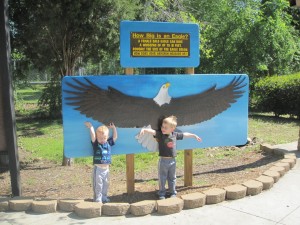 We had a busy weekend filled with the Ben's work picnic, Blaise's Baby Dedication, and Caleb's 4th Birthday Party. We sang at Ben's picnic and my lovely Grandma watched the boys for me. Thankfully, they had lots of bounce house type things that Caleb and Joshua enjoyed playing in while we performed. Caleb really enjoyed the bungee/trampoline ride, and of course, we rode on the train.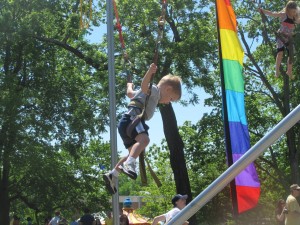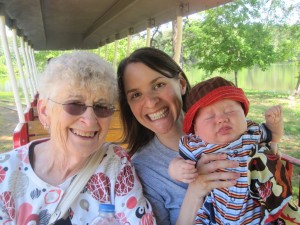 They enjoyed a few icees, popcorn, and cotton candy while we were there, too.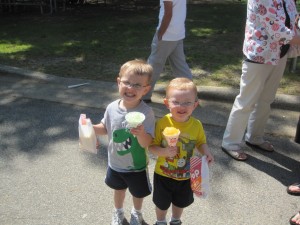 Blaise did well at his dedication. His brothers were pretty well behaved as well. I tried getting a good picture of them before church, but Joshua was not in the mood to cooperate. This was my best shot.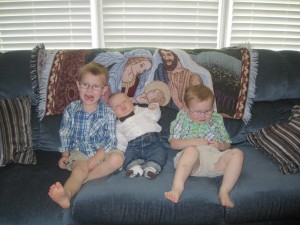 Many thanks to my little sister for taking pictures during the service and at Caleb's party. There are more pictures up on my facebook.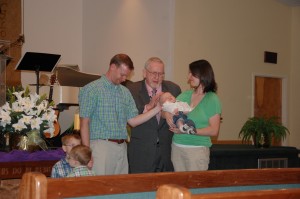 Caleb enjoyed celebrating his dinosaur themed birthday with ALL of his cousins…all 16 of them. Yup, our house was packed with kids and lots of family. I can't believe he's 4 already.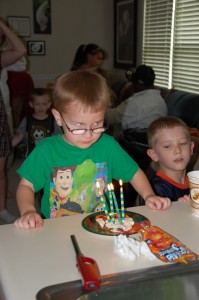 We celebrated as a family on Caleb's actual birthday. Caleb decided he wanted mac and cheese for his dinner and donuts for his dessert. Doesn't take much to make his heart happy! You can tell from this picture we go all out on wrapping gifts…Thanks to Amazon for wrapping this one for us.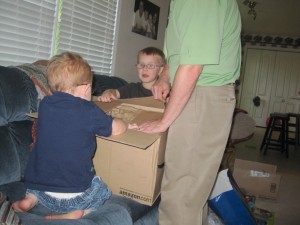 Joshua loved helping Caleb open his presents.  He couldn't wait to play with everything.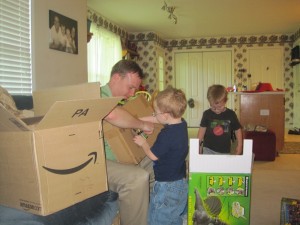 Later that week we took a trip to the zoo. Since we have passes we just visited the North American side, so on the way home Caleb informed us of animals we missed.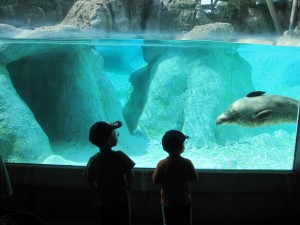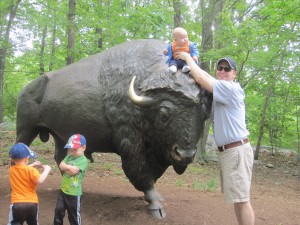 Okay, I think we're pretty much caught up on the happenings of the last few weeks. Here are just some pictures of the boys.
Naked boys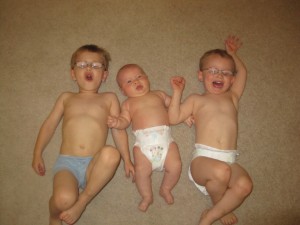 Enjoying some watermelon.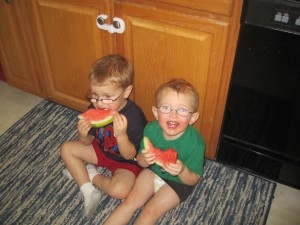 Blaise enjoying his jumperoo.