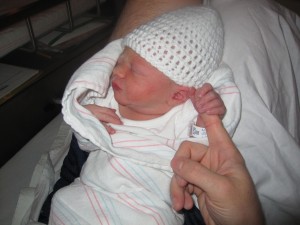 So Blaise decided to come a few days early and fast! For those interested in this kind of stuff, my contractions started around 5:30pm on Wednesday, January 26th. Ben and I had just finished putting the boys' mattresses and sheets on their new bunk bed. Ben had worship practice that night, but since I wasn't feeling that great I told him he better not go. I took a bath and then started to time the contractions to see how close they were. I was still in the stage of "I don't know if this is it" since I had a few contractions that were 10 minutes apart. I had had a doctor's appointment that morning and had been warned that I would have some cramping and contractions that evening, so determining if this was "it" was kind of difficult. Thankfully Ben decided to call his parents and tell them to come on down (they live an hour away) despite my unbelief. Then it hit! I needed to get to the hospital. I couldn't talk through my contractions anymore, and I was starting my "I can't do this" talk to Ben. Usually I'm in the hospital when I start saying that. Ben's parents were in Greensboro, so Ben got our neighbors, and we headed to the hospital. We left the house around 7:20-7:30. I walked to the labor and delivery room, stopping quite a few times to hug on Ben and have him rub my back and help me breath through a contraction. They were short staff and had just delivered a baby, so Ben and I were standing outside the labor and delivery rooms ringing the bell to be let in for 3 minutes. I finally got into a room, and changed into a gown, and then felt like I needed to push. The doctor checked me and at 8:04pm, Baby Flumpy or Blaise was born. Kind of a crazy experience this time, but the outcome…so amazing! After three labors, I'm still amazed and in awe of what God knits together in a woman's womb.
Enough about my experience. The boys love Blaise. Caleb loves to hold him, and Joshua loves kissing on him. If Blaise starts crying, Caleb tells him, "it's okay, Caleb's here." Joshua will tell him, "Happy, baby." It's great.
Here are a few pictures, and hopefully I'll get some more up soon.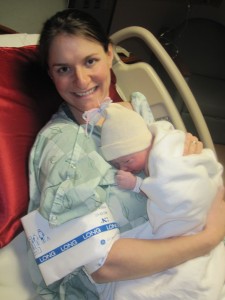 The boys meet Blaise.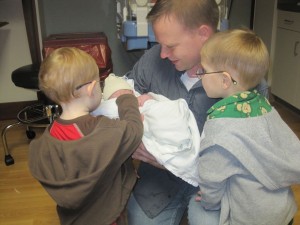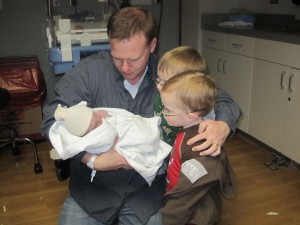 Blaise comes home!