A few weeks ago Caleb began to do something that I started to do at his age — cross his eyes.  Both Jessica and I became a little concerned.  No parent wants their child to have a disability or weakness.
After going to the eye doctor, we found out that Caleb is quite farsighted, just like me.  (I guess you have to take the bad with good. <grin>)  After checking around, we found that we could save a lot of money on the frames and lenses at Costco.   We ordered his glasses 10 days ago and waited for glasses to come in.
The glasses came in this week and today we went in to pick them up and to have them adjusted.  Initially Caleb did well, making it all around Costco, taking in the enhanced scenery, and most importantly, leaving the glasses on.  We were relieved because we had natural reservations about an eighteen month old adapting to his first pair of glasses…
…Three hours later Caleb was adjusting to his second pair of glasses.  While in his car seat he pulled of his titanium flexible frames and proceeded to rip them hinge from hinge.  Fortunately Costco had an extra frame and treated it as a warranty issue.  They had us all patched up in 15 minutes, and as of 8 PM, the second pair is still holding up.  Looks like Caleb's glasses wearing will only be under strict parental supervision for some time.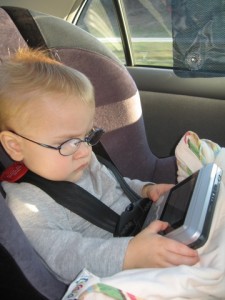 Caleb is looking more like his dad every day.  It is a good thing that frame styles have improved since the 70's.